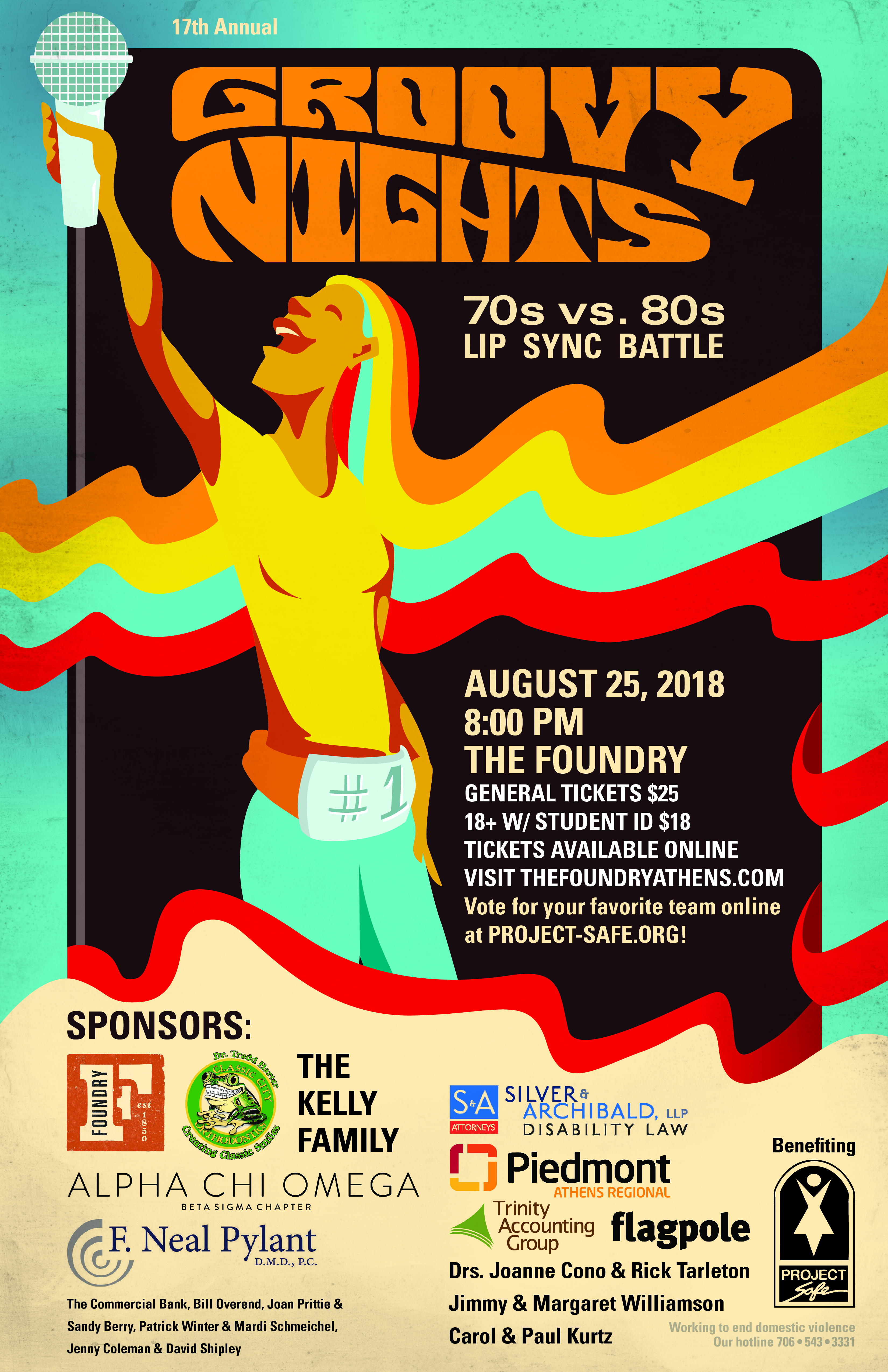 Stay tuned on our Facebook page for updateson Groovy Nights 2019!
Project Safe's 17th annual Groovy Nights fundraiser was a hit and we're looking forward to a successful 18th year in 2019! This year's event was all about the biggest Lip Sync Battle in Athens, Georgia!
At The Foundry on Saturday, Aug. 25th, The Battle of the Decades 70s vs 80s Lip Sync Battle was filled with competitive performances by local community favorites. Be looking out for announcements and ticket sales on our Facebook page when July 2019 rolls around!
This fundraiser is always a fun night of dancing, lip sync contests, out-of-this-world hairdos, costume contests, henna tattoos, tarot readings, and snack and drink specials from the past!
General admission tickets are $25, and student tickets are available for $18. This event is 18+. Tickets are always available at the door and online for pre-sale in July. All proceeds benefit survivors of domestic violence.
Although this event is the epitome of fun, the cause is why we are here. The event benefits Project Safe, a local nonprofit that works to end domestic violence in Athens and the surrounding areas. Project Safe offers prevention and educational programs, crisis intervention, systems change advocacy, and ongoing supportive services for survivors of domestic violence and their children.
Fundraisers like Groovy Nights allow us to do more for our clients and offer crucial resources to those fleeing or experiencing the devastation of intimate partner violence. In 2017, Project Safe answered 2,660 crisis hotline calls, offered outreach services to 1,067 survivors, and gave 257 educational presentations. With your support, we are able to continue serving those affected by the horrors of domestic abuse and help them move forward in their own, unique healing journeys. Can't make it to Groovy Nights but still want to support Project Safe? Visit our website http://www.project-safe.org/ways-to-donate/groovy-nights/ to learn more about this event.
—————————
2018 TEAMS:
Lip Sync Team 1: Junior League, AKA "Justice League"
Lip Sync Team 2: The MAMA'S
Lip Sync Team 3: UGA Vets 4 Pets & People
Lip Sync Team 4: Kelly Girtz
Lip Sync Team 5: Margaret & Amy, AKA "Suga & Spyce"
Lip Sync Team 6: Bonnie & Lisa
Lip Sync Team 7: Lori Divine
Lip Sync Team 8: Dave Shearon
Lip Sync Team 9: Katie Towns, AKA "KC & the Sunshines"
Lip Sync Team 10: Paul Varnadoe