Kimberly - Clark Donates Essential Products to Project Safe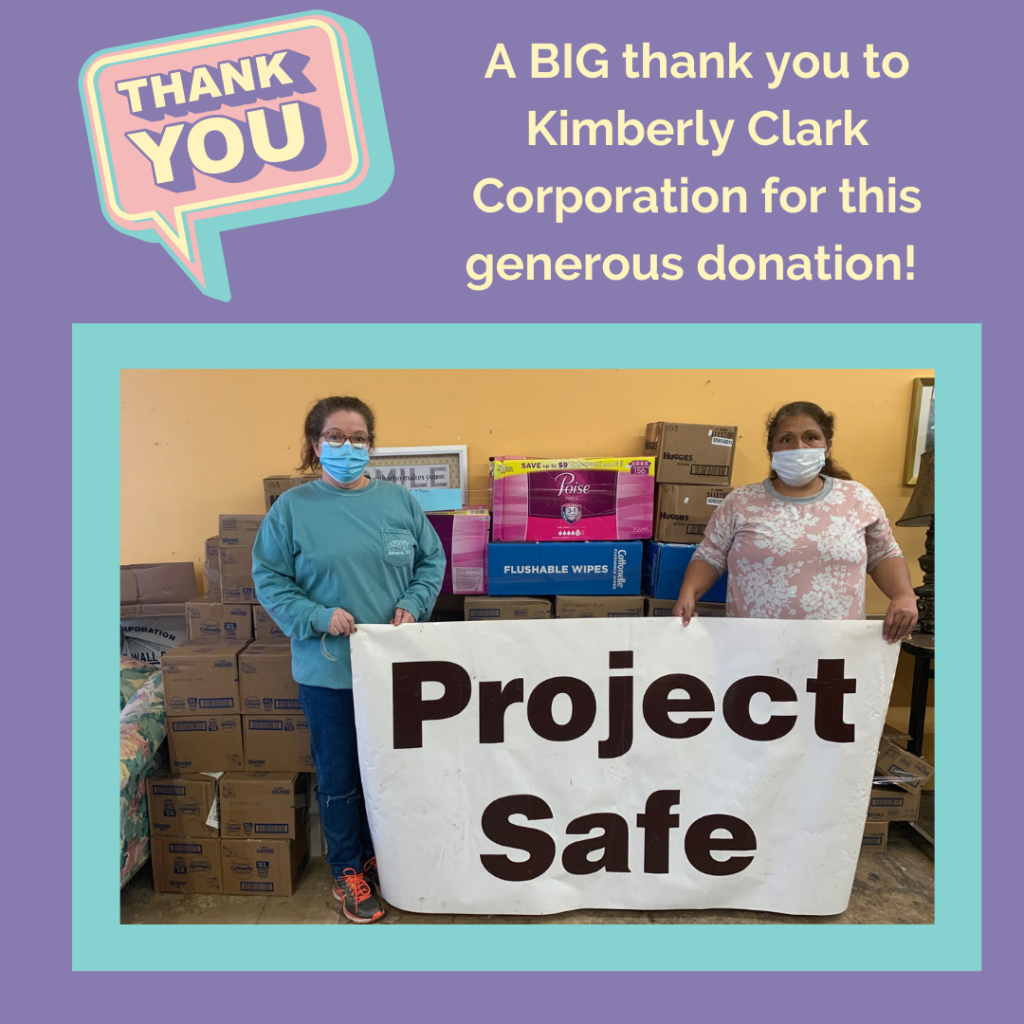 Project Safe recently received two pallets full of essential products from Kimberly-Clark, including U by Kotex® menstrual pads, Cottonelle® Flushable Wipes, Huggies® diapers and Poise® incontinence pads. These much-needed items will be used to support clients of Project Safe, a non-profit domestic violence organization in Athens, GA that believes everyone deserves to be safe in their homes and in their relationships. 
Kimberly-Clark's SALUTE employee resource group for veterans at its Roswell, GA office along with its North America Distribution Group were very excited to donate these essential products to Project Safe. Last year, Kimberly-Clark announced a goal to improve the lives of 1 billion people in underserved communities around the globe by 2030, and achieving such a big goal often happens a few people at a time.  
A donation like this stocks Project Safe with supplies needed to serve survivors – both adults and children – of domestic violence. This includes the confidentially located shelter that has 22 beds, which includes four family units and six individual units.
In addition to the services that Project Safe offers its clients, the shelter tries to make life as comfortable as possible. Fleeing domestic violence and leaving the comforts of a familiar place is difficult for anyone. To alleviate some of that discomfort, Project Safe ensures there are enough toiletries and hygiene products available to the residents free of charge. Project Safe can only provide these items due to the generosity of its supporters, including this bountiful contribution from Kimberly-Clark.
A message from Joan Prittie, Project Safe Executive Director
"The donation from Kimberly-Clark Corporation is a great resource for our clients," said Joan Prittie, Project Safe's Executive Director. "Shelter is more than just a place to sleep – we provide individual and group support, advocacy, financial assistance, and a host of other services to help people rebuild their lives."  ‎ ‎‎‎‎‎‏‏‎ ‎‎‎‏‏‎ ‎‎‎‏‏‎ ‎‎‎‏‏‎ ‎‎‎‏‏‎ ‎‎‎‏‏‎ ‎‎‎‏‏‎ ‎‎‎‏‏‎ ‎‎‎‏‏‎ ‎‎‎‏‏‎ ‎‎‎‏‏‎ ‎‎‎‏‏‎ ‎‎‎‏‏‎ ‎‎‎‏‏‎ ‎‎‎‏‏‎ ‎‎‎‏‏‎ ‎‎‎‏‏‎ ‎‎‎‏‏‎ ‎‎‎‏‏‎ ‎‎‎‏‏‎ ‎‎‎‏‏‎ ‎‎‎‏‏‎ ‎‎‎‏‏‎ ‎‎‎‏‏‎ ‎‎‎‏‏‎ ‎‎‎‏‏‎ ‎‎‎‏‏‎ ‎‎‎‏‏‎ ‎‎‎‏‏‎ ‎‎‎‏‏‎ ‎‎‎‏‏‎ ‎‎‎‏‏‎ ‎‎‎‏‏‎ ‎‎‎‏‏‎ ‎‎‎‏‏‎ ‎‎‎‏‏‎ ‎‎‎‏‏‎ ‎‎‎‏‏‎ ‎‎‎‏‏‎ ‎‎‎‏‏‎ ‎‎‎‏‏‎ ‎‎‎‏‏‎ ‎‎‎‏‏‎ ‎‎‎‏‏‎ ‎‎‎‏‏‎ ‎‎‎‏‏‎ ‎‎‎‏‏‎ ‎‎‎‏‏‎ ‎‎‎‏‏‎ ‎‎‎‏‏‎ ‎‎‎‏‏‎ ‎‎‎‏‏‎ ‎‎‎‏‏‎ ‎‎‎‏‏‎ ‎‎‎‏‏‎ ‎‎‎‏‏‎ ‎‎‎‏‏‎ ‎‎‎‏‏‎ ‎‎‎‏‏‎ ‎‎‎‏‏‎ ‎‎‎‏‏‎ ‎‎‎‏‏‎ ‎‎‎‏‏‎ ‎‎‎‏‏‎ ‎‎‎‏‏‎ ‎‎‎‏‏‎ ‎‎‎‏‏‎ ‎‎‎‏‏‎ ‎‎‎‏‏‎ ‎‎‎‏‏‎ ‎‎‎‏‏‎ ‎‎‎‏‏‎ ‎‎‎‏‏‎ ‎‎‎‏‏‎ ‎‎‎‏‏‎ ‎‎‎‏‏‎ ‎‎‎‏‏‎ ‎‎‎‏‏‎ ‎‎‎‏‏‎ ‎‎‎‏‏‎ ‎‎‎‏‏‎ ‎‎‎‏‏‎ ‎‎‎‏‏‎ ‎‎‎‏‏‎ ‎‎‎‏‏‎ ‎‎‎‏‏‎ ‎‎‎‏‏‎ ‎‎‎‏‏‎ ‎‎‎‏‏‎ ‎‎‎‏‏‎ ‎‎‎‏‏‎ ‎‎‎‏‏‎ ‎‎‎‏‏‎ ‎‎‎‏‏‎ ‎‎‎‏‏‎ ‎‎‎‏‏‎ ‎‎‎‏‏‎ ‎‎‎‏‏‎ ‎‎‎‏‏‎ ‎
"Project Safe is grateful for all of its supporters, whether they shop at the Thrift Store, purchase items off the monthly needs list, or participate in fundraising and awareness campaigns like Who Are You Thinking Of? (#WAYTO)," said Prittie. "Kimberly-Clark's vision is to lead the world in essentials for a better life, and these product donations are incredibly valuable as we help our clients get back on their feet and on the path toward a better life."