Vagina Monologues Coming Next Month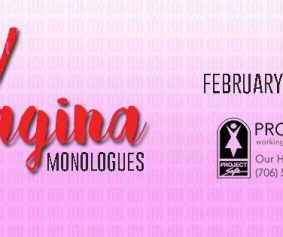 Join us for Project Safe's 18th Annual production of Eve Ensler's award-winning play, The Vagina Monologues. This year's production will feature women of all ages and backgrounds performing monologues ranging from humorous to devastating, profound to profane.
Tickets are $15 and can be purchased online or at the door. General admission and all proceeds go to Project Safe's work of ending domestic violence through crisis intervention, ongoing supportive services, systems change advocacy and prevention and education.
The show starts at 8 pm Thursday (2/16), Friday (2/17), and Saturday (2/18), and at 3 pm Sunday (2/19).
For any other questions or information call 706-549-0922.
Posted by Joan Prittie on Monday, January 9th, 2017 @ 7:13PM
Categories: News