RISE. RESIST. UNITE. | Vagina Monologues 2018
Upcoming Events
START DATE: February 26th, 2018
TIME: 6:30pm

LOCATION: Athens, GA
START DATE: April 21st, 2018

RISE. RESIST. UNITE.
Join Project Safe in presenting the annual production of Eve Ensler's award-winning play, The Vagina Monologues! Women of all ages and backgrounds perform monologues ranging from humorous to devastating, profound to profane. This year's production will acknowledge and amplify the voices of women heard and unheard who have experienced sexual assault, harassment, and/or abuse.
Stay updated here for more information about ticket pricing and online purchasing. Look under the 'Donate and Volunteer' tab on our website to buy tickets! General admission and all proceeds go to Project Safe's work of ending domestic violence through crisis intervention, ongoing supportive services, systems change advocacy and prevention and education.
The show starts at 8 pm Thursday (2/15), Friday (2/16), and Saturday (2/17), and at 3 pm Sunday (2/18) at the UGA Chapel.
Follow the Facebook event here.
For any other questions or information, call 706-549-0922.
Let's put out fists in the air and unite! We can't wait to see everyone there!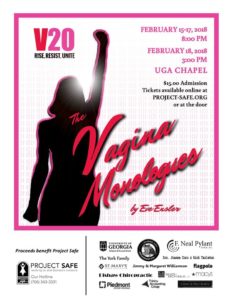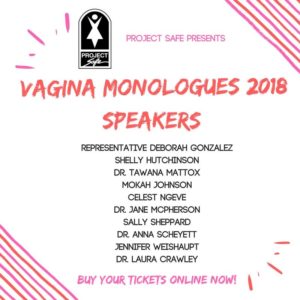 Posted by Joan Prittie on Thursday, January 25th, 2018 @ 2:34AM
Categories: News