Through an Open Window 2017
Upcoming Events
No upcoming events scheduled...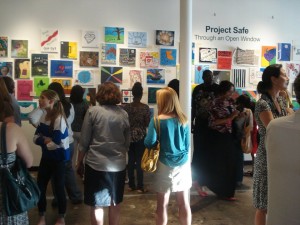 October is Domestic Violence Awareness Month. Project Safe, in collaboration with the Domestic Violence Task Force of Athens-Clarke and Oconee Counties, begins the month with a reception featuring the awareness project "Through an Open Window." This event features art projects created by, or in honor of, survivors of domestic violence. We will also be honoring community members for their work to end domestic violence in the community, as well as survivors who are sharing their stories. The art projects will be displayed at ARTini's throughout the month of October to raise awareness of domestic violence in our community.
Open painting sessions are Thursday, September 28th at 11 am and Friday, September 29th at 1 pm. If you'd like to create a piece for Through an Open Window, please come to one of these sessions. The painting sessions will be at ARTini's (337 Prince Avenue).
In addition, the reception for these art projects, as well as the honoring of community members and survivors, will be on Friday, October 7th from 5:30 pm to 7:00 pm at ARTini's (337 Prince Avenue). We'd love to see you there – the event is free, so bring your friends and family too!
Posted by Joan Prittie on Monday, September 25th, 2017 @ 6:58PM
Categories: News