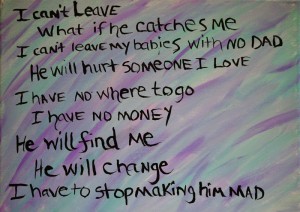 In the past, people have often questioned why it is so difficult for victims of domestic violence to leave abusive situations. The answer is not as basic as one might think. Women (and men) trying to get out of abusive relationships often face a number of barriers that prevent them from attaining safety. Though not everyone experiences the same barriers, some of the most common that are likely to impact victims include environmental and community factors.
Due in part to social isolation of victims triggered by their abusers, victims may have limited access to information regarding legal options and available resources such as shelters. Consequently, they may not be aware of the different avenues that are available to help them obtain safety.
Even with adequate information, domestic violence victims may fear turning against their abusers. Because victims are often the only witnesses to domestic violence, they must usually testify against their abusers in any court proceedings. They may fear retaliation from their abusers. This threat of future danger may deter victims from seeking assistance through the criminal justice system.
Other related barriers involve the availability of legal services and affordable housing, as well as economic and mobility barriers.
These examples are only a handful of the countless ways in which domestic violence victims can feel restricted and unable to find safety. As a community, we need to stop blaming victims and instead focus on how to destroy these barriers.